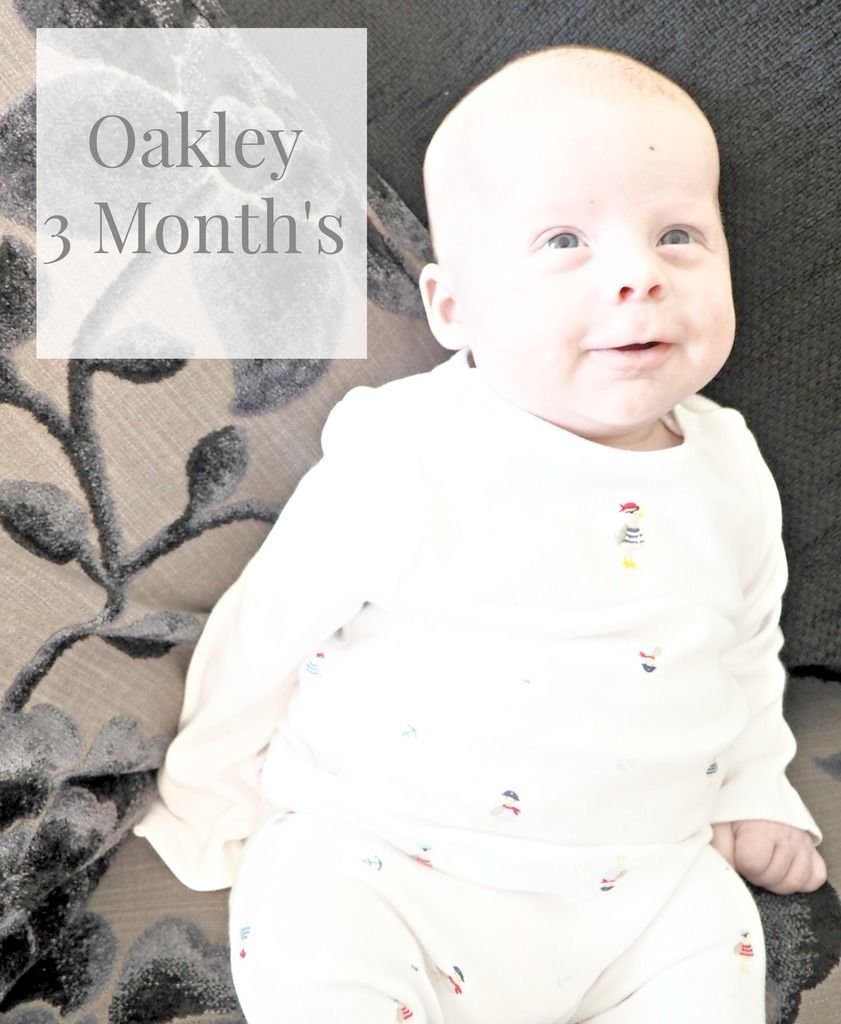 I haven't done a update on Oakley since he was just a few weeks old. He is now 3 months old and i really cant believe it. He is no longer a little newborn and is starting to show his personality. The first few months
were really hard I'm not going to lie, being a mum of two, recovering from a c-section and then having to contend with colic was extremely hard. I'm going to do a post on Oakley's colic and how i helped it and made life easier soon.
Since Oakley was born it was very obvious he was a different baby to Lilly. Lilly was very content, slept through from 6 weeks, hardly cried and didn't want to be held. Up until a few weeks ago Oakley wanted to be held all the time, he wasn't sleeping in the day and not at night. He now sleeps from half 7-4:30 wakes for a quick feed then sleeps until 7:30 for another quick feed then will sleep until half 9. He has 2 short naps a day and then a long nap in the middle of the day whilst Lilly is napping.
Now i have a good routine and Oakley's colic is gone life is pretty good. His personality is starting to show, he is such a sweet happy baby always smiles when he sees me and constantly looks for me when I'm not there. Oakley loves to watch his big sister, seeing the two of them together is the sweetest thing in the world. He prefers to be sat up so he can watch Lilly and has started to notice the dogs and tries to grab their fur. He seems to be a little more shy than Lilly, he doesn't like to be passed around and is more happy with me or mike.
Oakley is still in 0-3 months but he has really big feet so I'm starting to put him in 3-6 months. I don't know how much he weighs but i know he is a chunky boy and seems to be tall like Lilly. He looks more and more like his dad but seems to be quite fair like me. He loves bath time now but seems to be reacting to Johnson's products like Lilly did.
He is constantly making little cooing sounds and has little baby conversations with us. He isn't laughing properly yet but he has done a belly laugh a few times in his sleep which i don't really understand why he is laughing in his sleep but not when hes awake.
I think thats it for Oakley's 3 month update. If you want to read his other updates you can
here